Summertime is all about fresh, vibrant flavors, and this recipe for Skinny Parmesan Chicken is the perfect way to celebrate the season. I was lucky enough to get my hands on some gorgeous heirloom tomatoes, and I knew I had to create a dish that would showcase their juicy, sweet flavor. But this skinny parmesan chicken recipe isn't just delicious – it's also high in protein, making it a great choice for a post-workout meal or a satisfying lunch or dinner.
The cooking technique is key here – I pound the chicken thin, sear it on high heat, and then finish it off in the oven for perfectly cooked, juicy chicken. And let's not forget about the fresh parmesan cheese – not only does it add a delicious nutty flavor, but it's also a good source of calcium and protein. Parmesan cheese also contains healthy fats and is lower in calories than many other types of cheese. With the addition of other healthy ingredients like garlic, olive oil, and basil, this skinny parmesan chicken recipe is a nutritious and delicious way to enjoy the flavors of summer.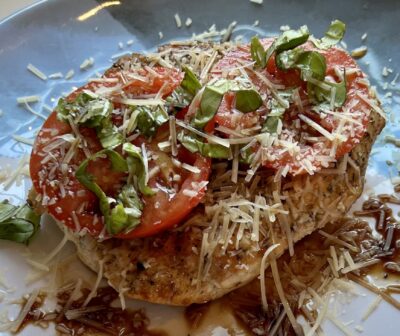 2 large chicken breasts pounded thin
2-3 TB of fresh grated parmesan cheese
1 large tomato
A handful of basil leaves
2-3 TB of extra virgin olive oil
2 TB of Italian seasoning
1 tsp of salt
1/2 tsp of black pepper
1/2 tsp of garlic powder
Balsamic vinegar for drizzle (optional)
Trim chicken, then pound until they are about 1/2 inch thick.

Using your hands, rub chicken breasts with olive oil. 

Season both sides of chicken with Italian seasoning (be generous), salt, pepper, and garlic powder. 

Heat a medium-size skillet on medium-high heat and drizzle with olive oil. Once hot, add minced garlic for about a minute. 

Place chicken in a hot skillet and brown chicken- about 3-4 minutes on each side. Get a nice brown crust on the chicken. 

Cover chicken on a baking sheet, cover tightly, and place in 425° oven for about 8-10 minutes. 

While the chicken is cooking, slice your tomato into thin rounds and slice the basil into thin strips. 

Once the chicken is done (about 165° internal temp), sprinkle each chicken breast with about 1 TB each. Layer sliced tomatoes, then basil, and a little more parmesan cheese. 
Add sides like quinoa or roasted sweet potatoes to make this recipe heartier. Looking for other ways to make chicken? Try this easy, tasty baked chicken recipe.