Every week I prep big batches of cooked protein so it's easy for me to pull together quick, healthy lunches and dinners. I've been fooling around with this baked chicken recipe for a long time, and I think I nailed it- it's super easy, and the chicken turns out super moist. My family loves it, so I always make a huge batch. I'll also add whatever veggies I have and turn this recipe into a one-pan meal.
Easy, Moist Baked Chicken Recipe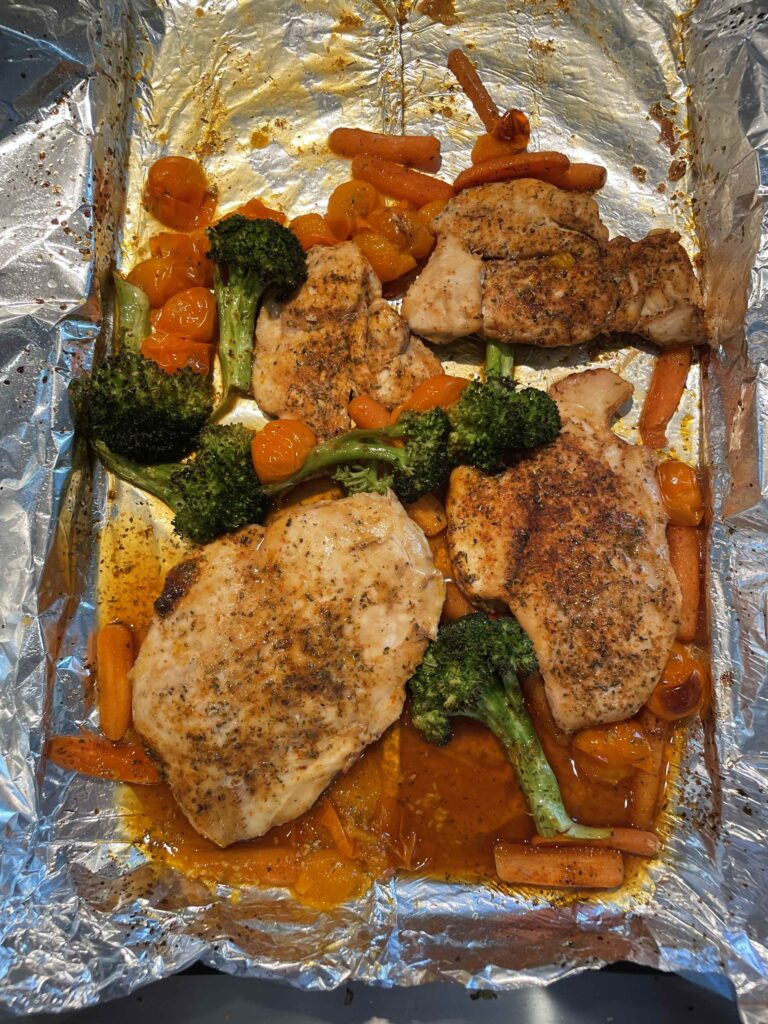 3 TB brown sugar
2 tsp of Italian seasoning
2 tsp kosher salt (not table)
1 1/2 tsp smoked paprika
1/2 tsp pepper
1/2 tsp garlic powder
2 tsp extra-virgin olive oil
Preheat oven to 425 degrees F. Line a baking sheet with foil.
Mix all seasonings together.
Bring chicken breast to room temperature. I usually set out for about 30-60 minutes.
Cut chicken breast horizontally to make thinner (or pound to about 3/4 think).
Rub chicken breasts with olive oil and generously season them on both sides with seasoning mixture.
Arrange whatever cut fresh vegetables you have around the sides of the pan. Spray or drizzle with olive oil and season with salt and pepper.
Cook for about 15-17 minutes. At the 10 minute mark, spray the chicken breasts with olive oil. Chicken is done when it is at about 165F internal temp.
Cover immediately with foil and let rest for 5 min.
This recipe is for a large package of chicken breasts. I make a least 5 pounds of chicken. Generously season both sides. You may have extra left over, so save for the next time. You can also try the spice mixture on boneless, skinless chicken thighs. 
Sometimes I need even quicker recipes to make big batches of protein. This recipe from Chris Powell is one of my favorite crockpot chicken recipes. My low-carb turkey chili is also in the rotation. Enjoy, and let me know your thoughts!