Brunching anytime soon? Offer a booze-free option at your Holiday breakfast and make it fancy with this beautiful blackberry mimosa mocktail recipe. The combination of blackberry and thyme make it fragrant and flavorful. The touch of grenadine gives the mimosa a pop of color and a layered look. Grenadine, which is most commonly made from pomegranate juice, sugar, and lemon juice, is a heavy liquid and almost always sinks to the bottom of a glass, even when it is the last ingredient poured.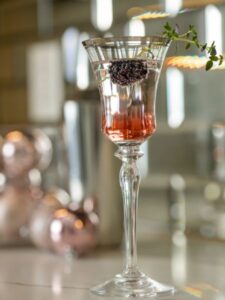 1 TB of grenadine syrup
1 12-ounce can of diet ginger ale
1 Blackberry (for garnish)
1 spring of thyme (for garnish)
Fill a champagne glass with (cold) ginger ale, slowly pour grenadine over the top, do not mix. Grenadine will slowly sink to the bottom. Top with a blackberry and thyme.