Sober curious this holiday season or just interested in exploring the benefits of mocktails? This Lemon Pomegranate Spritzer is super easy to make and a beautiful, refreshing mocktail to share to friends and family. It also includes pomegranates, which are loaded with antioxidants. Antioxidants are substances that may protect your cells from free radicals from damaging your cells.
When serving mocktails, make sure you have the proper (and fun!) barware. Find an elegant glass to serve it in and have a cocktail muddler handy. A muddler is used to ground or combine mocktail ingredients that will be included in your drink.
Lemon Pomegranate Smash Mocktail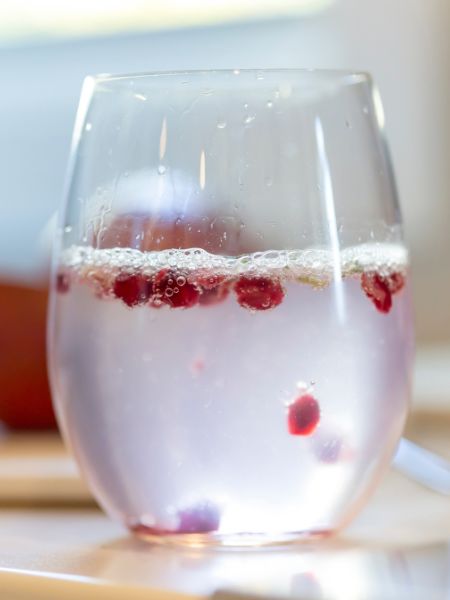 1 12-ounce can of your favorite sparkling water (mine is mixed berry)
4-6 raspberries
A quarter lemon
1-2 mint leaves
A handful of pomegranate seeds
In a stemless wine glass, muddle (or mash with the back of a fork) lemon, raspberries, and mint leaves. Add sparkling water and then top with pomegranate seed
If you are new to using fresh pomegranates, it can be messy and difficult to remove the seeds. Check out this link to see a mess-free hack to making using pomegranates easier. Save some of the pomegranates to use in salads and sides. This beautiful salad is so yummy! It's made with mixed baby greens, pecans, pomegranates and gorgonzola. Serve with this chicken dish with peanut dipping sauce.