Apple Nachos are a healthy, kid-friendly, delicious, and nutritious snack. This treat satisfies your sweet tooth and provides a fun opportunity to get creative and add your own twist with a variety of toppings. 
An Apple a Day…
As I'm sure you know, apples offer a bunch of health benefits. They include essential nutrients, fiber, and phytonutrients. Apples are also a great source of vitamin C, which supports a healthy immune system and provides dietary fiber that helps with digestion and keeps you full. The natural sugars in apples provide a steady release of energy, making them an ideal choice for a satisfying snack. But make sure to leave the skin on! The skin of an apple contains the majority of fiber and phytonutrients, which are plant compounds that promote overall well-being.
More Fun Halloween-Friendly Ideas
Get creative with these Apple Nachos! With Halloween just around the corner, get your kids involved and make them even more festive. Here are a few ideas:
Monster Mash: 

Use mini marshmallows as "eyes" and create spooky faces on the apple rounds with melted dark chocolate or nut butter.

Caramel Apple Delight:

 Drizzle some natural caramel sauce over the apple slices and top with crushed graham crackers. It's like enjoying a caramel apple without the stickiness.

Witch's Brew:

 Add a touch of green food coloring to Greek yogurt or melted white chocolate and drizzle it over the apple rounds. Decorate with Halloween-themed sprinkles.

Candy Corn Extravaganza:

 Arrange the apple slices on a plate, then layer orange and yellow toppings like dried mango, pineapple, or papaya, and top it off with a dollop of whipped cream or yogurt for a playful treat reminiscent of candy corn.

Midnight Magic:

 Create a wist by drizzling melted dark chocolate over the apple slices and topping them off with edible glitter.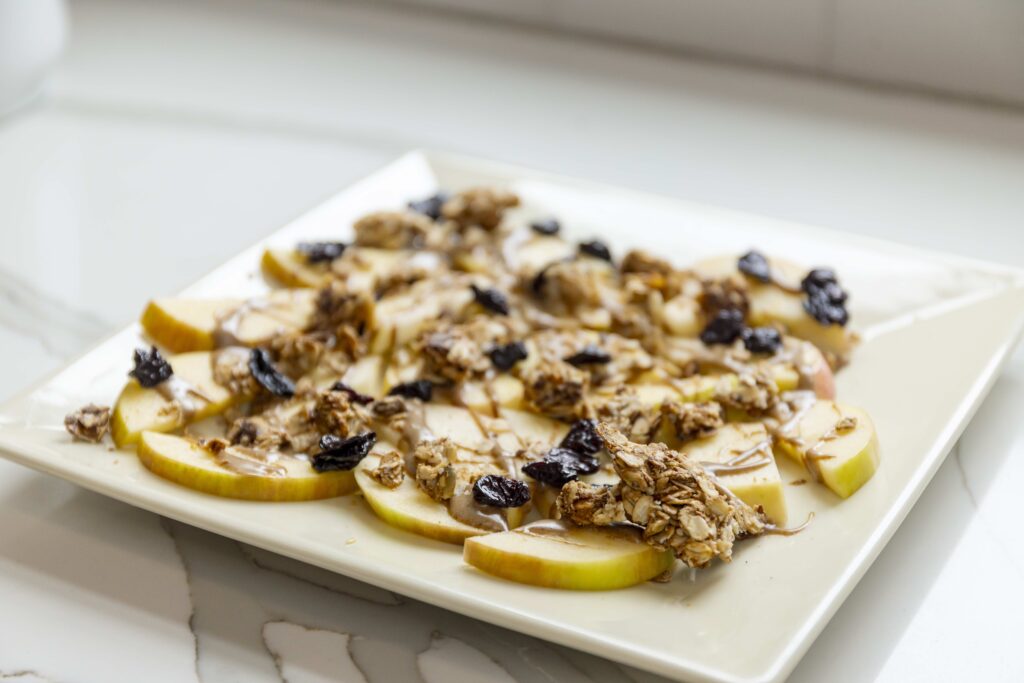 2 Apples, sliced into thin rounds
2 TB melted almond butter
2 TB of granola
1 teaspoon cinnamon
A handful of raisins
Arrange the apple slices on a plate. Drizzle the melted almond butter over the apples. Sprinkle with granola, cinnamon, and raisins (or anything else that sounds yummy!).