Try these Pumpkin Protein Muffins for a healthy breakfast option or grab-and-go snack. It can be tricky to make high-protein baked goods that (actually) taste good and are low in sugar. I think I nailed it with this one!
Why The Pumpkins Protein Muffins Are Perfect for Your Family
Kid-Friendly
The combination of pumpkin purée, Greek yogurt, and protein powder adds a moist texture and boosts the nutritional value, making them a perfect breakfast or snack for your kids.
Versatile for Any Time of the Day
These muffins are so versatile that they can be enjoyed as a delicious breakfast or a quick snack. They provide a nice dose of protein, helping you stay satisfied and energized throughout the day.
Low in Sugar
The brown monkfruit sweetener in the recipe is a natural alternative to regular sugar. Monkfruit sweetener adds a touch of sweetness without guilt, allowing you to get the flavor while keeping your sugar intake in check.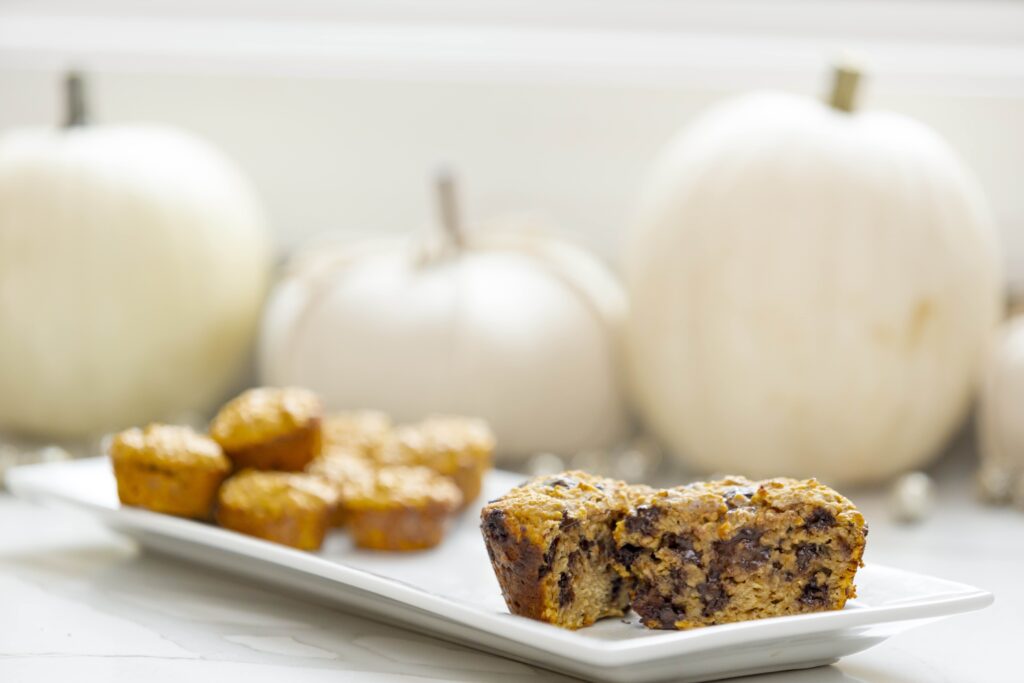 1 Cup (40g) oatmeal
1/3 Cup plain Greek yogurt
2 Large eggs
1/4 Cup pumpkin purée
1/8 tsp brown monkfruit sweetener
1 Scoop (30 g) of vanilla protein powder (your preferred flavor)
1/4 tsp of baking powder
Preheat oven to 350°F.
Combine the oatmeal, plain Greek yogurt, eggs, pumpkin purée, brown monkfruit sweetener, baking powder, salt, and protein powder in a mixing bowl. Stir until all the ingredients are well combined.
Grease a muffin tin with cooking spray or line it with muffin liners.
Choose whether you want to make mini muffins or regular-sized muffins. Adjust the baking time accordingly.
Spoon the muffin batter into the tin, filling each about 2/3 of the way.
Place the muffin tin in the oven and bake for 20-25 minutes (10-12 minutes for mini muffins), or until the muffins are lightly browned.
Remove the muffins from the oven and let them cool in the tin for a few minutes. Transfer them to a wire rack to cool completely before enjoying.
Option: Add ¼ cup of monkfruit or regular chocolate chips.
Let me know your thoughts and any other add-ins that work for you! If you want more fall-inspired recipes, check out this Pumpkin Protein Dip.