Who doesn't love a creamy martini? Unfortunately, they are often super high-calorie and loaded with sugar. This Zero-Proof Candy Cane Martini is the perfect holiday drink and tastes decadent. It's super easy to make and a beautiful booze-free cocktail to share with friends and family. It's also has almost zero sugar and is less than 100 calories. 
Interested in other mocktail ideas? Try this Lemon Pomegranate Spritzer Mocktail.
Zero-Proof Candy Cane Martini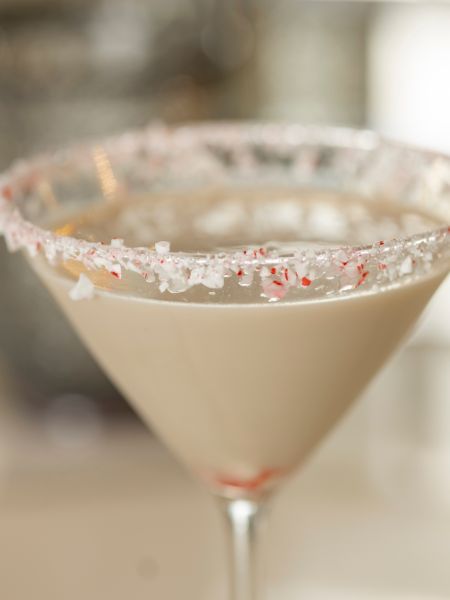 ¼ cup (or 4 TB) Nutpods almond & coconut Creamer (or similar brand)

1 TB of heavy whipping cream
3 oz of zero sugar cream soda
1 TB of Keto or zero sugar simple syrup
Crushed candy cane for garnish
Optional: 2-3 drops Peppermint oil
Prepare the martini rims by lightly coating the rim of your martini cup in keto simple syrup on a plate.

On another plate, place the crushed candy canes then rim the glasses by dipping the glasses that have been coated in simple syrup into the candy cane.

Make the drink by simply stirring together almond creamer, whipping cream, cream soda, keto simple syrup and peppermint oil (optional) in a glass or cocktail shaker.

Pour mixed drink into the candy cane rimmed martini glasses.