This Rose Spritzer is a fun way to celebrate Valentine's Day or any special occasion with the whole family. Making cocktails with rose water infuses a beautiful floral and fragrant note to a drink. Remember this Rose Spritzer is all about the glass and the flower garnish. Have fun with your barware to turn it into a fine-drinking experience.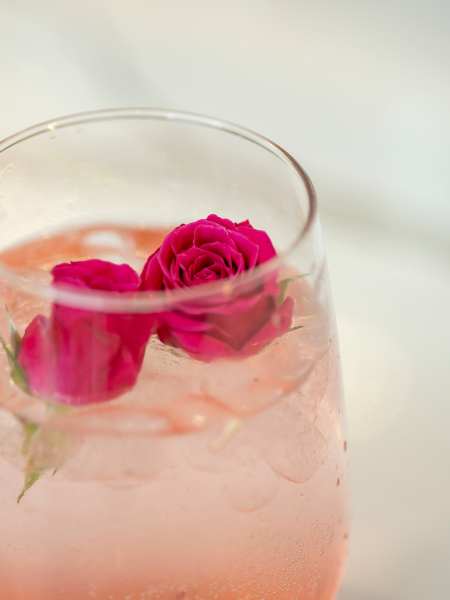 2 Tbsp. rose water
2 Tbsp. fresh lemon juice
1 Tbsp. simple syrup, sugar-free or regular (optional)
½ half a can or ½ cup sparkling water
A few drops of cranberry juice for color
In a stemless wine glass or martini glass, add rose water, lemon juice, and simple syrup (optional, for a sweeter taste). Top with sparkling water—any flavor you prefer is fine—then stir in a few drops of cranberry juice until your desired color. Add fresh roses for garnish.
Wondering how to add florals to your beverages? The opportunities are endless! You can add them to ices cubes, use as a garnish, or even as an ingredient in your cocktail. Some great edible flowers include hibiscus, pansies, roses, violets, lavender, and borage blossoms. You can find them at your local farmer's market, grocery store, or even Home Depot/ Lowe's.
Need more inspiration? Check out this Lemon Pomegranate Spritzer.