This is one of my favorite mocktail recipes! Probably because no matter what time of year I make this Blueberry PiÑO Colada Mocktail, it puts me in vacation mode. The hint of pineapple mixed with light coconut milk will transport you to the beach.
It's all about the glass! Have fun with your barware, and make sure you make your mocktail drinking an experience. Check out these fun tropical-inspired mugs.
Blueberry PiNO Colada Mocktail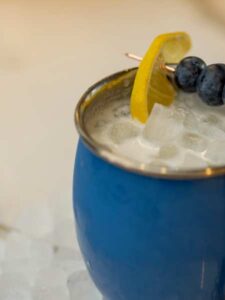 3-4 ounces of canned light coconut milk
1 TB of Keto or zero sugar simple syrup
Splash of pineapple juice from can with bits
Blueberries for garnish
Using a blender or shaker, first mix or blend the light coconut milk with a handful of ice. Add the simple syrup and splash of pineapple with bits. Top with small handful of blueberries.
TIP: Make sure you buy unsweetened coconut milk. Sweetened condensed coconut milk and cream of coconut are full of extra sugar. Cans of sweetened condensed coconut milk and cream of coconut are often sitting on shelves near the coconut milk, so be sure you're buying the right can.
Make sure to shake or blend your coconut milk. When you open your can of coconut milk, don't be alarmed! The creamiest part of the milk will naturally rise to the top. It's OK if this happens. Just shake or blend as mentioned in the instructions.