Creamy Espresso Martini Mocktail
A good espresso martini is deliciously sinful and the perfect way to cap off a dinner. This coffee mocktail is rich, sweet, and just the pick-me-up you might need after a meal. It is made using simple ingredients and is a lighter twist on a traditional heavy cream martini. You won't even miss the alcohol!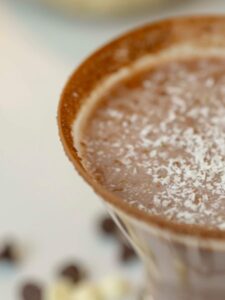 2 ounces expresso
3 ounces unsweetened vanilla almond milk creamer
1 ounce of sugar-free or regular vanilla simple
Pinch of salt
Cocoa powder to rim glass
Coffee beans as optional garnish
Dip the rim of your martini glass into simple syrup and then cocoa powder. Set aside. Add ice, espresso, creamer, simple syrup, and salt into a cocktail shaker. Shake vigorously and pour into a martini glass and even top with a few coffee beans.
Interested in learning more about how to make non-alcoholic drinks? Check out more of Food and Mood's mocktails in this Glamour magazine article.
You can find more recipes here too!
If you're wondering about the benefits of being alcohol free, check out this article by Annie Grace, author of "This Naked Mind" and "The Alcohol Experiment," where she shares the benefits of cutting out alcohol, even for as little as one month!